Taking Stained Concrete To The Next Level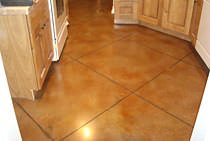 Classic Concrete Staining has been providing exceptional diamond polished and stained concrete services to residential and commercials clients throughout Texas for many years. From Austin concrete staining to concrete polishing in Dallas, we take pride in the high level of quality we deliver on every job, taking care to ensure each floor we work on is something we would be proud to have in our own home or business. When you hire us for your polished or stained concrete needs, you can always count on:
Scratch protectant and minimal scuff
NO haze or milkiness
NO need for constant resealing
A stone appearance with a glass-like finish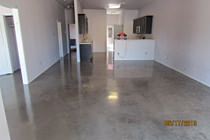 Specializing in diamond polishing and acid stained concrete, we provide service in West Texas, San Angelo, Midland, Odessa, Dallas, Ft. Worth, Plano, McKinney, Frisco, Allen, Arlington, Richardson, Grapevine, Duncanville, Little Elm, Coppell, Euless, North Richland Hills, DFW, Austin, and the surrounding areas. If you want a beautiful concrete floor that is low maintenance and will last you for years, contact us today to learn more about our methods for staining concrete.
Why Stained Concrete?
Stained concrete has grown in popularity over the years as a gorgeous way to personalize and add class to a home. When done properly, stained concrete has the appearance of a stone floor with a lustrous finish, and the added benefit of being very low maintenance. However, the key phrase here is "when done properly."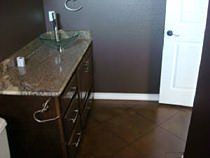 A correctly stained and polished concrete floor can improve your house or business and provide you with all sorts of benefits, such as:
A beautiful way to express yourself and make your home "yours"
Low maintenance floor that only requires a broom or a damp mop to clean
No need for resealing or repolishing
Stained concrete is a great choice for anyone who wants style and class of polished stone, but the affordability and low maintenance of concrete.
Stained Concrete and More
Unlike other contractors, we know what we are good at, and we only offer services that we can guarantee the highest quality work. Here is what we do:
Acid Concrete Staining – Acid stained concrete produces a lavish, dimensional pattern over the whole surface that rivals marble or expensive stone. We put a lot of care into ours floors – each one is made with a custom seven step process that spans five to seven days of work using specialized tools. Because we are using stain and not paint, the color becomes a part of the concrete, and will not chip, flake, or peel.
Diamond Concrete Polishing – We specialize in diamond polished and stained concrete to bring out the natural stone finish, leaving you with a beautiful, low-maintenance floor. Diamond polishing is much more than the simple sanding that many contractors offer to do. A diamond polish takes much more time, but in the end brings out a luster that far surpasses a simple sanding.
Epoxy Flooring – Ideal for garages and industrial applications, epoxy coating makes cleanup a breeze. It is stain resistant, beads water, and wipes clean, making it the perfect finishing touch to any room where work is done.
Service Areas
Midland
Odessa
San Angelo
Andrews
Big Spring
Allen
Arlington
Richardson
Grapevine
Dallas
Ft. Worth
Plano
McKinney
Frisco
Coppell
North Richland Hills
DFW
Austin
Contact Us for Concrete Staining Services
At Classic Concrete Staining, we strive to provide the best polished stained concrete floors in Texas. If you are ready to turn that drab concrete floor into one that is beautiful and low-maintenance, contact us today to learn more about techniques for our diamond polished and stained concrete floors.
NO Scratch
NO haze or milkiness
NO resealing every year, two, or three
A shine that lasts
An actual Stone appearance
Glue and Adhesive removed
Stain Colors
Cola Stain
Rust brown resembling old leather
Aqua Blue Stain
Soft blue patina with undertones of green
Vintage Umber Stain
Rich earthy brown
Black Stain
Tortoise shell black with brown marbling
Golden Wheat Stain
Amber hued undertones
Green Lawn Stain
Soft grey green resembling aged Italian marble
Malay Tan
Buckskin suede tone with caramel marbling
English Red Stain
Terra cotta with rust and soft brown hues