Concrete Staining Services in Texas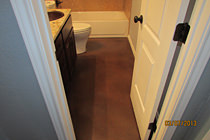 There is a reason why more and more people are becoming interested in concrete staining as a flooring solution. This process offers a whole host of benefits to those who use it to improve the appearance of their home, or even their place of work. However, before going into the advantages of this method, here is some additional information on what exactly it is.
What is Concrete Staining?
At its core, colored concrete staining involves applying a liquid (the stain) onto a concrete surface in order to make it look more like natural polished stone, as opposed to just mere concrete. This method will take the aesthetics of the surface to a whole new level. What may have once been an eyesore or a floor that no one really noticed, ends up becoming something you can show off. The surface itself ends up taking on a beautiful reflective polish.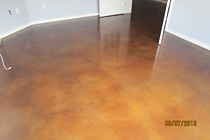 It is important to consider that the staining will not just improve the look of your floor or surface, it also offers other key benefits, such as:
Durability
Uniqueness
Flexibility
Classic Concrete Staining, offers expert concrete staining services. With our specialists on the job, you can be sure that the final outcome will look professional and will last a long time without chipping, peeling, or scratching. If you are ready to transform your drab concrete floor, get in touch with us via our Contact Page to learn more about staining concrete.
Durability of Concrete Staining
Every colored concrete flooring job we take on not only looks good, it maintains those good looks for years to come. Our company does not resort to using lacquer, urethane, or acrylic finishes to temporarily give the surface a glossy appearance. The key word there is temporary. These temporary finishes might look good at first, but after some time you will notice that the surface will tend to pick up scratches, scuff marks, white discolorations, and other imperfections.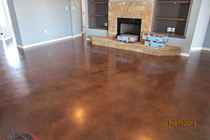 After enough time has passed, the smooth look of your floor will give way to something rather disappointing. You will then end up having to take additional steps to reseal the surface. This will mean additional cost, additional inconvenience, and probably some measure of regret. Classic Concrete Staining never uses these types of sealers.
When you use our concrete staining services, you can rest assured that your floors will not just look beautiful for days, weeks, or months, but for years. This is because all of our projects receive a proper diamond polishing as part of the staining process, using state-of-the-art equipment.
Uniqueness of Concrete Staining
Another benefit of acid staining concrete is that the look of your floors will be one-of-a-kind. You are not going to have to make do with an aesthetic that is exactly like the look of your neighbor's floors, or the floors of the office down the street. The acid mixture reacts chemically with the various minerals, which are already present in your concrete floor or surface. No two concrete slabs are ever the same, so this will also mean that the final patterns and colors will be completely unique and completely your own.
Flexibility of Concrete Staining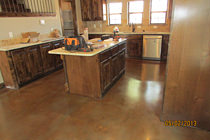 Another benefit to concrete staining is that it can be taken advantage of at different stages of construction. Now, what does this mean? It means that even if you are still at the point where you are constructing a house or building, you can already get in touch with us, so we can coordinate on how best to finish and personalize the look of your concrete surfaces. We will discuss what type of concrete works best and how to integrate our process with yours. The earlier we can become involved in the process, the lower the potential cost. In addition, our company can apply a protective finish to the floor or surface so that it is less likely to get damaged or discolored as the construction process is completed.
We can also come in to improve a concrete floor or surface, even after it has been previously covered by tile, carpet, or vinyl. This will entail some cleaning and other work, so that carpet tack holes can be filled and other imperfections in the surface can be corrected. Even if these floor coverings may prevent the stain from penetrating the entire surface evenly, this is not necessarily a bad thing. Instead, the variation that occurs will end up giving the surface a more interesting character and you will end up with a lovely look to your floor. In fact, we have found that floors with old vinyl tile attached with black adhesive end up looking absolutely beautiful once the staining is done.
Learn More About Our Concrete Staining Services Available in Texas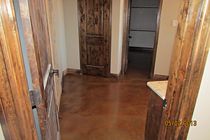 At this point, you might want to dig even deeper into the specifics of concrete staining. To receive more personalized information about how we can help you with this process, contact us via our Contact Page so that we can further discuss your stained concrete flooring options and provide a personalized quote for your flooring.
NO Scratch
NO haze or milkiness
NO resealing every year, two, or three
A shine that lasts
An actual Stone appearance
Glue and Adhesive removed
Stain Colors
Cola Stain
Rust brown resembling old leather
Aqua Blue Stain
Soft blue patina with undertones of green
Vintage Umber Stain
Rich earthy brown
Black Stain
Tortoise shell black with brown marbling
Golden Wheat Stain
Amber hued undertones
Green Lawn Stain
Soft grey green resembling aged Italian marble
Malay Tan
Buckskin suede tone with caramel marbling
English Red Stain
Terra cotta with rust and soft brown hues