Who We Are Stained Concrete Flooring Experts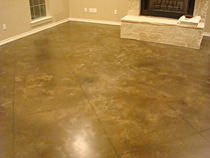 Classic Concrete Staining was founded by Danny Adams. While he was certainly passionate about diamond polished and stained concrete flooring, he was even more passionate about one thing: people. Danny envisioned running a business that strove to provide the best, most cost effective, and lowest maintenance floors on the market. That is exactly what he did.
Our diamond polished concrete process gives floors a brilliant natural shine that requires little maintenance to keep scuff and scratch free. Whether you are a builder, contractor, or homeowner, we look forward to meeting and working with you. Contact us today to learn more about our services for polishing and staining concrete floors.
Stained Concrete Flooring: Why You Should Choose Us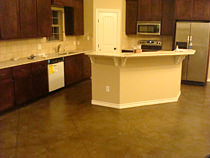 Everyone has their own methods of staining and polishing concrete, but that does not mean they are all equal. At Classic Concrete Staining, we take the time to do things right. As diamond polished and concrete floor staining specialists, we understand that each pour has its own defining characteristics, and we take that into consideration when determining how to stain and polish your floor.
We never use hazardous chemical coatings like urethanes, acrylics, and epoxies. These chemicals can lead to all sorts of unpleasant effects such as:
Scratching
Chipping
Bubbling
Flaking
Peeling
Fading
Discoloration
You should beware of contractors who claim to "do" stained concrete flooring simply because they bought an expensive polishing machine. Some concretes are harder or softer than others, and using the wrong machine or the wrong polish process could lead to your floor being ground down and uneven. We take the time to figure out the best equipment and polish to use on your stained concrete flooring – the only word we want to hear when you see the finished product is, "Wow!"
We Choose the Right Polish Process for Long-Lasting Stained Concrete Flooring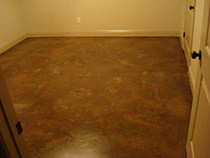 Knowing the right sealant and finish to use is of the utmost importance as well. There are plenty of contractors who know what kind of stain to use, but have no idea what type of sealant to apply. An inexperienced contractor will use a lacquer, acrylic, or urethane finish because they create a super high gloss at first. However, while these look great initially, over time your stained concrete flooring will quickly begin to scuff and scratch, leaving you to find another contractor to refinish your flooring. When you hire Classic Concrete to do your job, you can count on:
A beautiful, scratch resistant floor
A clear, glassy finish with no haziness
A low maintenance floor that does not require constant resealing
Stained concrete flooring that matches the appeal of expensive marble and other polished stone
In other words, we do the job right. So why settle for anything less?
Don't Compromise – Call Us Today And Get The Best Stained Concrete Flooring!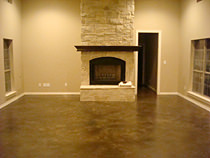 It is much more expensive to fix a poorly stained and polished floor than to simply do it right the first time. So you should not accept anything less than the very best when it comes to your stained concrete floor. Contact us today to learn more about our exceptional process for diamond polished and stained concrete.
NO Scratch
NO haze or milkiness
NO resealing every year, two, or three
A shine that lasts
An actual Stone appearance
Glue and Adhesive removed
Stain Colors
Cola Stain
Rust brown resembling old leather
Aqua Blue Stain
Soft blue patina with undertones of green
Vintage Umber Stain
Rich earthy brown
Black Stain
Tortoise shell black with brown marbling
Golden Wheat Stain
Amber hued undertones
Green Lawn Stain
Soft grey green resembling aged Italian marble
Malay Tan
Buckskin suede tone with caramel marbling
English Red Stain
Terra cotta with rust and soft brown hues