A Reliable Austin Concrete Staining Company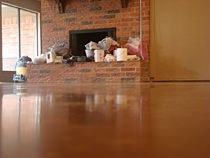 Looking for an affordable way to revamp your floors? Contact our Austin concrete staining company today! Concrete staining revitalizes tired-looking floors and gives character to an otherwise ordinary floor. Instead of having to paint your floors with a solid block of color that will only chip and peel, you can use a colored stain to infuse the surface of a concrete slab with a vibrant and rich color that complements any style. The depth of color that concrete staining provides has a distinctive appeal that no other painting or floor finish can provide.
If you are interested in having your concrete floors stained, look no further than Classic Concrete Staining. We are a reliable and trustworthy Austin concrete staining company that has been in business for many years. Call us now to get a free quote!
Why Choose Us as Your Austin Concrete Staining Company
Concrete is a popular flooring material because of its durability and reliability. But aside from its functionality, it also serves a decorative purpose, as long as the right finishing technique is used. With concrete staining, your floors are chemically treated to achieve a naturally beautiful color palette that is uniquely yours.
Classic Concrete Staining can help you achieve this by providing quality concrete staining services in Austin. We use advanced tools and equipment to get the job done right quickly and properly. By hiring us to do the job, you are assured of high-quality work provided by a professional and courteous crew. We understand how busy you are with your household or office, so our team is discreet and careful not to disrupt your normal routine while we get the job done. Our promise is to provide you outstanding results at a fair price.
Our Austin Concrete Staining Services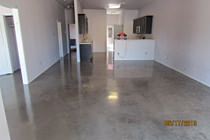 Classic Concrete Staining is an Austin concrete staining company that provides floor staining services among Austin private homeowners and commercial establishments. We specialize in acid concrete staining and diamond polishing. Acid staining is the most popular way to stain a concrete floor, while diamond concrete polishing brings out the natural stone finish of a floor.
What makes us stand out among the other Austin concrete staining companies is that our team of flooring consultants will provide expert advice to make sure that we come up with a color you love, while at the same time ensuring that it matches with the overall architectural design of your home. By using our Austin concrete staining services, you are assured of getting a high-end look at an affordable price.
Contact Us To Learn More About Concrete Staining in Austin Today!
Learn more about why we are the go-to choice when it comes to Austin concrete staining companies. Whether you are a homemaker looking for an affordable way to decorate your floors, patio, or pool deck, or a business owner looking to impress prospective customers, having your concrete floors stained by Classic Concrete Staining will definitely give you the best value for your money.
To improve the aesthetics of your home or business with our Austin concrete staining, contact us online or by phone for your free concrete staining consultation.
NO Scratch
NO haze or milkiness
NO resealing every year, two, or three
A shine that lasts
An actual Stone appearance
Glue and Adhesive removed
Stain Colors
Cola Stain
Rust brown resembling old leather
Aqua Blue Stain
Soft blue patina with undertones of green
Vintage Umber Stain
Rich earthy brown
Black Stain
Tortoise shell black with brown marbling
Golden Wheat Stain
Amber hued undertones
Green Lawn Stain
Soft grey green resembling aged Italian marble
Malay Tan
Buckskin suede tone with caramel marbling
English Red Stain
Terra cotta with rust and soft brown hues