Contact Our Experts for Polishing & Staining Concrete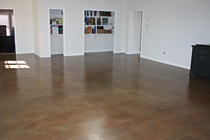 Classic Concrete Staining has the experience and expertise polishing and staining concrete to make sure that you get the floor you want with the look that you desire and the durability to make sure it all lasts a long time. We will tailor the work to your specific needs and requirements and leave your floor looking professionally done so that it goes from something unnoticed to something that you can show off.
To receive detailed and customized information about what we can do for you or a price quote for your project, please get in touch with us right away using the information below. The sooner you call, the sooner we can begin taking your concrete floor to a higher level with exert staining and polishing.
You can reach us through the following contact information:
Midland: 432-212-6841
San Angelo: 325-340-7268
Dallas: 432-212-6841
Austin: 432-212-6841
You can also reach us by completing our online contact form below:
Staining Concrete Professionally Throughout Texas
Located in Texas, Classic Concrete Staining provides services to residential, commercial, and industrial clients throughout the state. Our service areas include West Texas, San Angelo, Midland, Odessa, Dallas, Fort Worth, Plano, McKinney, Frisco, Allen, Arlington, Richardson, Grapevine, Duncanville, Little Elm, Coppell, Euless, North Richland Hills, DFW, Austin, and more.
When to Consider Polishing or Staining Concrete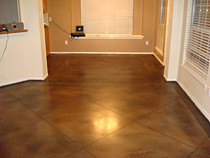 The beauty and durability of polished and stained concrete can leave a lasting impression. Whether it is for a residential or commercial application, people choose to work with us for polishing and staining concrete for various reasons. Here are some examples of when staining concrete may be appropriate:
You have a garage at home and would like to protect its concrete floor from the wear and tear of your car entering and exiting. Staining concrete also enhances the aesthetic appeal to your workspace in a way that is also functional.
You manage a showroom for cars or industrial equipment and want the space to look good so you can better show off your merchandise. In these cases, the floor has to be tough so that it can handle the repeated movement of the vehicles or equipment. However, you also want the floor to look polished and smooth. Polishing and staining concrete can achieve this.
You own an industrial space, factory, or warehouse where chemicals or harsh substances routinely get on the floor. Concrete polishing can create a durable and slip resistant surface while giving the floor a nicer appearance.
Learn More About Finishing & Staining Concrete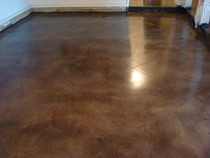 With expert services available that range from staining concrete to applying epoxy coatings, if you own or manage a space with a concrete floor, we can provide you with a service to make your floor more functional and aesthetically appealing. So get in touch with us and we can go into detail about how staining concrete or applying other finishes can make your space more pleasant, attractive, and easier to maintain.
NO Scratch
NO haze or milkiness
NO resealing every year, two, or three
A shine that lasts
An actual Stone appearance
Glue and Adhesive removed
Stain Colors
Cola Stain
Rust brown resembling old leather
Aqua Blue Stain
Soft blue patina with undertones of green
Vintage Umber Stain
Rich earthy brown
Black Stain
Tortoise shell black with brown marbling
Golden Wheat Stain
Amber hued undertones
Green Lawn Stain
Soft grey green resembling aged Italian marble
Malay Tan
Buckskin suede tone with caramel marbling
English Red Stain
Terra cotta with rust and soft brown hues