Concrete Polishing Services in Texas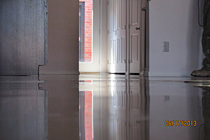 We offer some of the highest professional concrete polishing services in the state. At Classic Concrete Staining, we are specialists in diamond polishing, a special method that brings out a natural stone finish and glasslike sheen in poured concrete. Diamond polishing takes more time than the simple sanding that many contractors do, but leaves you with a gorgeous low-maintenance floor that will look fantastic years later.
If you are a homeowner, contractor, or builder that is looking for concrete polishing services, look no further than Classic Concrete Staining. We are more than happy to answer questions about our methods for staining concrete and concrete polishing services. Contact us today to learn more or to begin your project.
Why Our Concrete Polishing Services are Superior
At Classic Concrete Staining, we are aware that we have many competitors claiming to offer similar concrete polishing services. The unfortunate truth is that most contractors go to a school to learn a method of polishing from which they never stray. In reality, there is not a "one size fits all" polishing process. Additionally, many contractors will offer concrete polishing services simply because they purchased a very expensive polishing machine. Unfortunately, there is much more to concrete polishing than owning a fancy machine. If you use the wrong polishing process or machine on the wrong type of concrete, you can end up with a floor that is ground down instead of polished.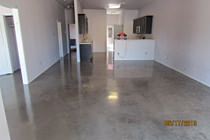 Concrete polishing is very much an art. For each project we undertake, our seasoned polishing experts go to painstaking lengths to identify the smallest of details in order to figure out the best polishing approach. This personalized attention to detail is the benefit of choosing Classic Concrete Staining for your concrete polishing services.
What to Expect With Our Concrete Polishing Services
During the polishing process, your floor will transform from a chalky rough surface to a natural polished stone look that exposes the marbling present in the concrete. This results in a lustrous sheen that rivals even polished stones like marble and slate. This can only be accomplished with professionally implemented diamond polishing, but the results are worth it.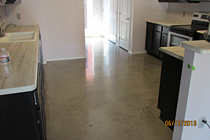 Aside from a gorgeous look, your diamond-polished floor will be incredibly low maintenance. Our concrete polishing services create a floor that is easy to clean while eliminating high traffic areas and dusting from efflorescence. While inexperienced contractors may use a lacquer, urethane, or acrylic sealers to create a high gloss finish, this wears off fairly quickly. Floors using these sealers are more prone to scratches and scuffs, and will quickly need to be refinished. We only use the highest quality sealers on our floors, so you never have to worry about scratches, scuffs, bubbling, peeling, or discoloration.
Contact Us for Quality Concrete Polishing Services
If you want a concrete polishing service that takes the time to identify your floor's individual needs in order to provide the highest quality results, choose Classic Concrete Staining. We are happy to answer any questions and discuss our methods for polishing and staining concrete, so contact us today!
NO Scratch
NO haze or milkiness
NO resealing every year, two, or three
A shine that lasts
An actual Stone appearance
Glue and Adhesive removed
Stain Colors
Cola Stain
Rust brown resembling old leather
Aqua Blue Stain
Soft blue patina with undertones of green
Vintage Umber Stain
Rich earthy brown
Black Stain
Tortoise shell black with brown marbling
Golden Wheat Stain
Amber hued undertones
Green Lawn Stain
Soft grey green resembling aged Italian marble
Malay Tan
Buckskin suede tone with caramel marbling
English Red Stain
Terra cotta with rust and soft brown hues