Commercial Floor Finishing: Concrete Floor Polishing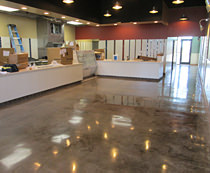 If you have a commercial property that you would like to improve and upgrade, we can help! At Classic Concrete Staining, we have a large amount of experience and expertise when it comes to developing solutions for commercial floors and surfaces. Our services include concrete floor polishing to create a durable and functional flooring surface. We also offer the staining of concrete floors in order to improve the look of your commercial property and to give your floor a unique and beautiful look.
If you want to take your commercial property to the next level, get in touch with us through the information found on our Contact Page. As experts in polishing and staining concrete, we can help you determine whether this is the best option for your industrial or commercial flooring needs.
Benefits of Concrete Floor Polishing for Commercial Floors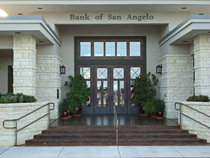 The floor polishing services we offer for commercial structures offer several key benefits:
Durable and Low Maintenance Flooring Surface
Improved Safety
Low Maintenance Concrete Floor Polishing
Several different options exist for making a commercial floor look more attractive, but you will find that most of these alternatives come with their own additional headaches as far as maintenance, durability, and practicality. For example:
Carpeting – One option is to cover the floor with carpeting. However, you will often find that the carpet will need to be cleaned, patched, and replaced regularly, especially in heavy traffic areas. Therefore, you will need to set aside a regular budget in order to stay on top of the maintenance requirements.
Hardwood - Similar concerns exist when it comes to covering your floor with hardwood or some other wood type of flooring. Over time, especially in a high traffic commercial property, you will find that the wood will tend to wear, scratch, and scuff. As the wood deteriorates, you may find that you will need to refinish, stain, or otherwise treat it, in order to give it back some of its lost luster. If the wood begins to buckle or warp, you have to tear off your floor and replace it with something else.
Tile – While tile tends to be more durable than other options, similar issues are likely to occur with tile floors as with other traditional flooring options. Tile will look good in the beginning, but you may find that the wear and tear of daily usage results in tile that is chipped, cracked, crushed, or otherwise damaged. Once damaged, the only way to restore its previous looks is by replacing it altogether.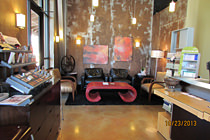 As a result, all of these options require regular maintenance or replacement. Therefore, these options are very different from concrete floor polishing. One of the biggest advantages of stained concrete is that it is much lower maintenance. There is no carpet to wear out, no wood to become warped, or tile to crack.
With concrete floor polishing, you will find that your floor will offer a highly reflective surface, with rich colors and interesting patterns, that will stand up to even the highest traffic levels, providing a beautiful flooring for many years. As a result of this durability, concrete floor polishing will save you money and energy, while giving you greater peace of mind.
Improved Safety with Concrete Floor Polishing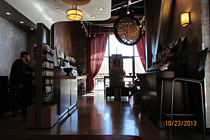 Another important benefit of concrete floor polishing compared to other flooring options is the fact that this produces a safe and slip resistant surface that is ideal for all types of industrial and commercial applications. Carpet can wrinkle and crumple making it a nuisance and safety hazard. The same is true with wood that has warped or become deformed. Tile can be slippery, and if there are broken areas, these could cause people to stumble. These problems are often exacerbated in commercial areas that see a lot of heavy traffic.
When staining or polishing concrete floors, we also apply a sealer, which creates a non-slip surface. The extra grip and traction that this surface will provide can produce a safer environment in which people can work.
Learn More About Concrete Floor Polishing for Commercial Applications
To learn more about our commercial concrete flooring options including polished and stained concrete floor and epoxy floor coating for commercial and industrial applications, contact us today. We can help you understand the benefits of staining concrete and determine if this flooring option is right for you.
NO Scratch
NO haze or milkiness
NO resealing every year, two, or three
A shine that lasts
An actual Stone appearance
Glue and Adhesive removed
Stain Colors
Cola Stain
Rust brown resembling old leather
Aqua Blue Stain
Soft blue patina with undertones of green
Vintage Umber Stain
Rich earthy brown
Black Stain
Tortoise shell black with brown marbling
Golden Wheat Stain
Amber hued undertones
Green Lawn Stain
Soft grey green resembling aged Italian marble
Malay Tan
Buckskin suede tone with caramel marbling
English Red Stain
Terra cotta with rust and soft brown hues