Concrete Staining Cost and Pricing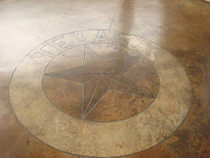 At Classic Concrete Staining, we offer our clients customized solutions aimed at addressing and meeting their needs. Each client is unique and we approach each project with this thought in mind. As a result, the specific services offered will be adapted to each client. The pricing will be calculated based on the details of the services offered, such as the preparation needed for the surface, the size of the area, the desired look, and other additional features.
We work with our clients for every project to make sure that they receive good value for their money and a service that best meets their needs.
To ask for a price quote for a specific project, contact us directly online or by phone. As experts at polishing and staining concrete and applying epoxy floor coatings, we can determine a customized solution for your concrete flooring needs.
Concrete Staining Costs: The Surface and Treatment Involved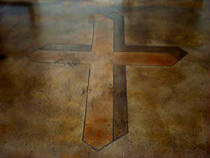 We offer a variety of floor treatment options available, and we can customize our service to meet your needs. For instance, our company can stain and polish your concrete floor. This service begins at $4.50 per square foot for relatively simple designs. If you would like a more creative or complex design or you would like us to score patterns in the flooring, the cost can go up to $7.50 per square foot.
Our concrete polishing and staining service will include preparing the slab of concrete, staining the surface, and finishing the surface properly. Please note though that for larger residential and commercial projects, concrete staining costs will be bid and discussed separately from polishing. Also, please note that all projects have a minimum bid of $1,500. This is done in order to make sure that the expenses involved in professionally addressing your floor or surface are met.
Concrete Staining Cost: Preparation Required for Existing Floors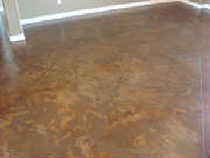 The level and type of preparation required for preparing your floor for staining and polishing will depend on the specifics of your project. For example, if some form of flooring exists which already covers the concrete surface; this must be removed before we can begin our work. We can do this. However, the costs associated with this work are not included in the prices quoted above and will be bid separately.
If the materials that must be removed involve tiles or carpet, the cost of removal will start at $1.50 per square foot. There is a chance that nail holes will have to be filled as part of the preparation process. We have experience and expertise when it comes to concealing these holes. That said, there is no way to completely make these disappear. However, our techniques will ensure that most people will not notice where the holes once were. The cost of filling in holes is included in the bid prices, so there is no additional cost for this service.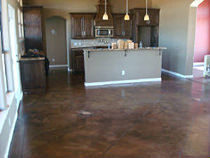 In cases where the concrete has already been laid, it will be necessary for us to inspect the concrete closely before we can begin our work. It is possible that some of the concrete may not have been mixed well. If we find this, we will alert you to its presence. Also, we will need to scrutinize the actual condition of the slabs so that we can best gauge how to proceed with the work.
Concrete Staining Cost: New Construction
During new construction projects, we prefer to be involved as soon as possible in the project. We are experts when it comes to concrete flooring, and we can consult with your contractor and concrete finishers in order to ensure the best final outcome.
Concrete Staining Cost: Patterns and Design
In order to further decorate your flooring, we can score patterns, logos, figures such as stars, and most other shapes onto the concrete. We can also apply stenciled patterns onto the flooring ranging from logos to other designs. These services carry an extra cost on top of the standard concrete staining cost.
Learn More About Our Concrete Staining Costs
If you would like to begin working with us to polish and stain your concrete floors, contact us today for a customized price quote.
NO Scratch
NO haze or milkiness
NO resealing every year, two, or three
A shine that lasts
An actual Stone appearance
Glue and Adhesive removed
Stain Colors
Cola Stain
Rust brown resembling old leather
Aqua Blue Stain
Soft blue patina with undertones of green
Vintage Umber Stain
Rich earthy brown
Black Stain
Tortoise shell black with brown marbling
Golden Wheat Stain
Amber hued undertones
Green Lawn Stain
Soft grey green resembling aged Italian marble
Malay Tan
Buckskin suede tone with caramel marbling
English Red Stain
Terra cotta with rust and soft brown hues