Epoxy Floor Coating: Benefits and Uses
There are a number of reasons why epoxy floor coating is seeing increased popularity in different settings, including residential, commercial, and industrial applications. One of the main advantages that this flooring option offers is a relatively lower cost compared to other kinds of flooring options. Another advantage is the fact that when this coating is applied correctly, it will last for a long time even when it is regularly exposed to foot traffic, the weight of heavy machinery, and other constant punishment.
Aside from the advantages already mentioned, there are a number of other aspects to consider. For example:
Epoxy Floor Coating is Resistant to Chemicals and Water
Epoxy Floor Coating is Easy to Clean
Epoxy Floor Coating can be Used in a Diverse Range of Places
If epoxy floor coating sounds appealing to you, get in touch with us through our Contact Page. As experts in staining concrete and applying epoxy coatings, we can answer any of your questions.

Benefits of Epoxy Floor Coating
Epoxy Floor Coating is Resistant to Chemicals and Water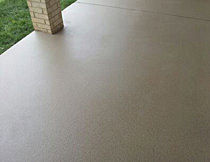 This is a popular reason why epoxy floor coating is used in commercial and industrial settings. An untreated concrete floor, when regularly exposed to moisture or harsh chemicals will tend to degrade over time. This type of water and chemical exposure will shorten the life of the concrete's surface layer. There will be deterioration, not just of the aesthetics of the surface, but also of its usability.
However, this degradation is something that epoxy is able to prevent. The chemical composition of the material is impervious to water as well as chemicals. So, if the treatment is applied to the floor of a factory where harsh chemicals are stored or used, then the floor will be protected. Even after chemicals have repeatedly spilled onto the floor, the floor will continue to both look good and feel good underfoot.
Epoxy Floor Coating is Easy to Clean
Since epoxy floor coating is impervious to water and chemicals, it also becomes more difficult for stains and other stubborn residue to build up on the surface. In most cases, any dirt or build up on the floor can quickly be cleaned or swept away. This offers some very practical benefits to a homeowner, factory foreman, or warehouse owner. Since the floors are quick and easy to clean, the time, energy, and resources that would have been tied up by maintenance can be allocated to other tasks. Also, since the epoxy floor coating resists stains, the surface is able to maintain its polished and professional look for far longer than other floor surfaces.
Epoxy Floor Coating can be Used in a Diverse Range of Places
No matter what type of building or structure you own or manage, epoxy floor coating could be the solution to your concerns. Epoxy floor coating has a variety of applications. For example, it has been used in structures such as airplane hangars, mechanic shops, garages, fire stations, warehouses, manufacturing plants, and more. These places are able to take advantage of the fact that the treatment is cost effective so it can be used over large areas. At the same time, the flooring provides the kind of durability that can handle the chemicals used in these establishments and structures.
In addition to these commercial and industrial applications, epoxy flooring also looks good in places such as community centers, retail buildings, office spaces, and even home garages. No matter where the floor is located, epoxy floor coating can provide a solution for protecting the surface as well as making it pleasant to the eye.
Learn More About Epoxy Floor Coating from Classic Concrete Staining
To learn more about epoxy floor coating benefits and applications or to begin working with us to design your epoxy floor, contact us today!
NO Scratch
NO haze or milkiness
NO resealing every year, two, or three
A shine that lasts
An actual Stone appearance
Glue and Adhesive removed
Stain Colors
Cola Stain
Rust brown resembling old leather
Aqua Blue Stain
Soft blue patina with undertones of green
Vintage Umber Stain
Rich earthy brown
Black Stain
Tortoise shell black with brown marbling
Golden Wheat Stain
Amber hued undertones
Green Lawn Stain
Soft grey green resembling aged Italian marble
Malay Tan
Buckskin suede tone with caramel marbling
English Red Stain
Terra cotta with rust and soft brown hues